The carrier that cares -

Drivers say we're great.


It's time to drive
with Sunstate!
Let your success ride with us
Apply Now
At Sunstate Carriers, our goal has always been to build a family-run company that is sensitive to our drivers' and customers' needs. We understand it's not just miles and money; it's the little things that count!
Sunstate is looking to hire experienced over-the-road drivers. When it comes to transporting our customer's freight, we expect our drivers to complete their trips in a safe, timely, and professional manner.
Our customers have come to expect no less from us.
Start your career with Sunstate today!
Submit a full application today and drive your future at Sunstate!
At Sunstate Carriers Inc., we strive to provide a high-quality transportation experience. Our company is a premier refrigerated truckload carrier based in Tavares, Florida. Our drivers operate throughout the Northeast, Southeast, and Midwest United States.
Sunstate Logistics, Inc. was established in 2000.  From the very beginning, our goal was to provide drivers and customers with a new solution.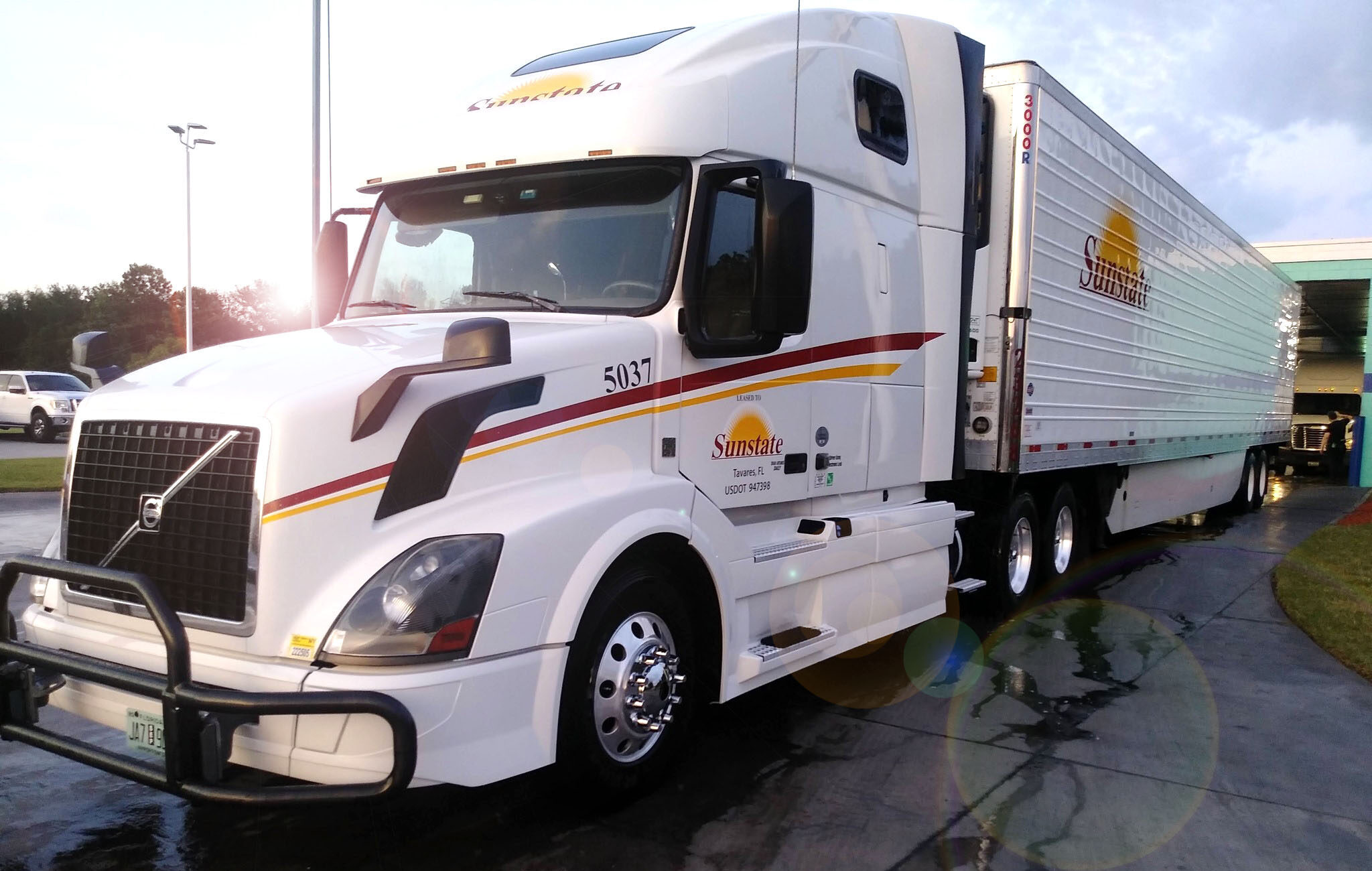 SUNSTATE
130+ DRIVERS
hauling with us
Meet some of the drivers!
Hear it straight from the source. Find out from our drivers why Sunstate Carriers is Florida's best-kept secret.
What the drivers say
DRIVER REVIEWS
"I love the atmosphere here! Folks are easy to get along with & ownership has a TRUE open-door policy. Appreciation is often expressed from the top right down to your co-workers. I feel I found my "work-home" to work out the balance of my years."
"I've been trucking for many years. Over the last 2 years with Sunstate, I can now get home at least overnight almost weekly. Dispatch gives me plenty of good miles and the shop has been great for maintenance and repairs on my truck. I know what I can expect each week and I can rely on it."
"Best place that I've had the privilege of working. Sunstate is very driver-oriented and has kind, considerate people in the front office. Thank you, Sunstate! My Driver Manager, Ms. Kerry, is the best I've ever had!"
"No complaints. Solid, honest company to work for. Great equipment and plenty of miles!"
"Been here going on 2 months. I like the steady miles and freight in and out of Florida."
"Great company. Great service. True professionals."
"My husband and I own our own LLC. He has been leased to Sunstate as an Owner Operator for almost two years! No complaints from our end. This company is very fair and does what they say they will do. We hope all others else take their lead in running a legit company."
"I have been working for this company for 3.5 years. The ownership is amazing and great individuals to work for! Sunstate takes care of ALL their employees. Looking forward to many more years."
"Just went to work here and am absolutely impressed with everybody. They do what other companies say. I've been treated very well, and they have been very warm and welcoming. The pay structure is excellent! I have found my home and you can too if you're looking for a company."
Our benefits:
WHY CHOOSE US
We value every candidate and treat everyone we work with as an individual.
We create custom solutions to maximize profitability and perfect-fit opportunities for our drivers.
We're here for you when you need us.
01
Great Pay
• Direct Deposit Pay • Cash Advances Available
02
Bonuses
• $1,000 Sign-On Bonus • $1,000 Referral Bonus
03
Insurance Offerings
• Major Medical • Vision • Dental
More about our services:
What we provide shippers
• Dependable inbound and outbound transportation
• Complete and accurate freight bill audit and pay functions
• A complete supply chain support system
• Guaranteed professional and friendly service
• Reduced transportation costs
• Seamless freight coverage for all customers via verified partners
Sunstate Carriers, Inc.
Technology
While we continue to focus on our objective to deliver on-time and damage-free each and every time, we utilize the latest technologies to enhance our position as the industry leader in safe and cost-efficient transportation of temperature and time-sensitive goods. Our satellite-based communication and tracking system allows us to maintain continuous contact from initial tender to the final delivery of our customer's goods. This technology directly benefits our customers by making load status updates available throughout the shipping process.
News from our social channels